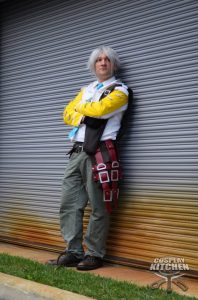 I have been around in the cosplay scene for a long time. My first year cosplaying at an anime convention was 2001 Otakon. Before this I cosplayed at characters I liked but I didn't know it was an actual thing. I was that kid who liked being video games characters or cartoon characters I watched on the television.
I have traveled to a bunch of cons on the east coast. Otakon, Katsucon, AUSA, Setsucon, Tekko, Dragoncon, Nekocon, Colossalcon, Wizard World and a few comic conventions in Baltimore and Pennsylvania. I have been a costume judge for AUSA and Tekko as well as the Pittsburgh Retro Gaming con and 3 Rivers Comic Con.
I have a variety of awards under my belt and I compete in the Master Category.
I went to school for movie special effects. I specialize in makeup, props, and costumes. I
believe that if you can think of it you can build it. The only thing stopping you  from doing it is yourself.
My dream cosplay is Wing Zero from Gundam Wing and I REEEEAAALY want to do it this year. The funds for it is my only limiter right now.
Cosplay Kitchen has been a dream of mine for a long time. I started it back in 2010 with the idea of just being a group of cosplayers who attend conventions together. This idea grew into a company to make costumes and props. We added photography shortly after and now the dream is to expand into a studio space to teach people how to costume. To help build a community and give people a place to go.